Toronto Young Street
Gord Hume Speaking Downtown Toronto
Gord at a book signing at the 2014 AMO conference.
Gord at a book signing at the 2014 AMO conference.
Great Wall of China
Visiting China: Great Wall of China
FICTION–"Sapphire Blue"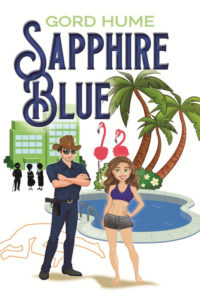 Beautiful Samantha Summers flees a New York City winter after her bitter divorce and ends up in a small city along the Gulf Coast of Florida.  Her hilarious adventures while confronting quirky characters and a different social structure in her new condo complex are complicated by The Wives, the ruling group around the pool.  Then, suddenly and shockingly, Samantha becomes the primary suspect in a bloody murder in the hot tub in the notorious grotto.  She and her two new best friends must become amateur detectives to help the Sherriff prove that she is innocent.
At the same time, deep corruption inside Port Manatee city hall is threatening the peace and stability of the city.  As she fights to save her reputation and beat the murder rap, Samantha discovers the con men that roam Florida preying on the innocent, and learns that not all the sharks live in the Gulf.
Laughter and tears.  Smiles and sadness.  Hope and love.  They all come together in a crashing climax that forever changes Samantha's life, and that of her new community.
This book is a sharp satire about living in Florida and how the snowbirds and the residents clash and come together.  It is a romantic comedy.  It is a puzzling mystery.  It is about renewing your faith in yourself and finding the courage to move on in life.
"Really believable and interesting characters," reports one reader.  "I laughed out loud," said another.  "A terrific and fun read," says another.  "I didn't want to put it down."
This is a witty and amusing novel about leaving a bad marriage, finding a new life and discovering one's surprising inner strengths.
TO ORDER YOUR COPY NOW:                           www.burnstownpublishing.com
Reviews for Sapphire Blue
Gord Hume breaks from city-building books with rom-com-mystery-satire – Joe Belanger, London Free Press – December 17, 2018
Former London Councillor Gord Hume publishes first novel – Pat Moauro, Aging Well Magazine – December 2018 issue