Gord Hume's Latest Adventure
Gord Hume's Latest Adventure
Gord Hume's Latest Adventure
Gord Hume exploring the world's culture and cuisine
Gord Hume - Florida Fun in the Sun
NOVEL "Sapphire Blue"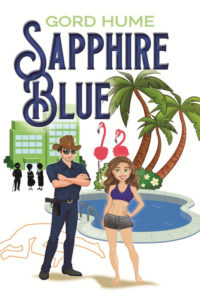 "SAPPHIRE BLUE" is the first novel in Gord Hume's popular "Samantha and the Sheriff" series.
Beautiful Samantha Summers flees a New York City winter after her bitter divorce and ends up in a small city along the Gulf Coast of Florida.  Her hilarious adventures while confronting quirky characters and a different social structure in her new condo complex are complicated by The Wives, the ruling group around the pool.  Then, suddenly and shockingly, Samantha becomes the primary suspect in a bloody murder in the hot tub in the notorious grotto.  She and her two new best friends must become amateur detectives to help the Sherriff prove that she is innocent.
At the same time, deep corruption inside Port Manatee city hall is threatening the peace and stability of the city.  As she fights to save her reputation and beat the murder rap, Samantha discovers the con men that roam Florida preying on the innocent, and learns that not all the sharks live in the Gulf.
Laughter and tears.  Smiles and sadness.  Hope and love.  They all come together in a crashing climax that forever changes Samantha's life, and that of her new community.
This book is a sharp satire about living in Florida and how the snowbirds and the residents clash and come together.  It is a romantic comedy.  It is a puzzling mystery.  It is about renewing your faith in yourself and finding the courage to move on in life.
"Really believable and interesting characters," reports one reader.  "I laughed out loud," said another.  "A terrific and fun read," says another.  "I didn't want to put it down."
This is a witty and amusing novel about leaving a bad marriage, finding a new life and discovering one's surprising inner strengths.
TO ORDER YOUR COPY NOW:                           www.burnstownpublishing.com
Reviews for Sapphire Blue
Gord Hume breaks from city-building books with rom-com-mystery-satire – Joe Belanger, London Free Press – December 17, 2018
Former London Councillor Gord Hume publishes first novel – Pat Moauro, Aging Well Magazine – December 2018 issue
Reader Reviews and Comments for Sapphire Blue
Sapphire Blue is a gripping mystery full of fun characters and a true surprise ending that keeps you wanting more.
Katherine Vyse, Amazon customer (5 star review)
I loved the book. I couldn't put it down. I read it in one day. Really funny—and I can't wait to meet Samantha!
Martin G. Atlanta, Georgia
I gave the book to my mother. She absolutely loved it! She only reads biographies. She never reads fiction but she really enjoyed "Sapphire Blue". Now I can't wait to read it!
Jan W. London, Ontario
Sapphire Blue" was the biggest surprise of this holiday season. I loved it. Well paced and very funny with an underlying current which kept me coming back to read more. Yes, a real page turner. Looking forward to the next one. This has movie or TV series written all over it.
Dennis S. London, Ontario
We both just finished reading "Sapphire Blue" and thoroughly enjoyed it. It's fun to read, with lots of interesting details about the food and clothing adding to the fun.
Lorraine H. Saskatoon, Sask.
I really enjoyed the book. Lots of laughs. Some really funny lines.
Dr. Ken E. Illinois, USA
I just finished "Sapphire Blue" and I loved it! It was a great way to spend my Sunday. It is funny, fun and a real page turner. I loved the characters and I didn't guess [who the murderer was]. That definitely kept me guessing. Can't wait to read the next one.
Cathy V. Toronto, Ontario
I finished "Sapphire Blue" today and really chuckled. Some funny, funny lines: "Premature evacuation!" I really enjoyed reading it.
Linda L. Lambeth, Ontario
Sapphire Blue" was an easy read. The story about corrupt city hall councillors and the mayor I found hilarious and coincidentally very topical. There were lots of funny one-liners. I loved, "She was encased tighter than a knockwurst sausage". The DMV bureaucracy scene was spot on. I laughed at his description of The Wives…
Trudi W. London, Ontario
Sapphire Blue" by Gord Hume is a fun read with smart characters I want at my next dinner party. Hume's wit and penchant for knowing how people tick makes for snappy dialogue. The plot swirls enticingly like ice cubes in a fresh G&T. Subtly layered with deep insights into the inner workings of municipal politics, "Sapphire Blue" includes a juicy cast of characters that keep the reader guessing to unravel the mayhem of motives at city hall and the equally partisan condo complex where a murder is just fuel on the fire of poolside antics that had me laughing out loud.
Janice H. Calgary, Alberta
I just finished Sapphire Blue, and it was a great read!! I thoroughly enjoyed it. It was one of those books that was hard to put down – I just wanted to keep reading to find out what would happen next, and I loved the characters – you can actually visualize the characters in real life!
Tammy J. London, Ontario
What a great book! I couldn't put it down. I was supposed to go shopping but kept saying, read one more chapter. I loved the humor, the characters and the situations. Really well written. Great fun to read.
Cydney G. St Pete Beach, Florida
I lent my copy of "Sapphire Blue" to a friend. The other morning her newspaper didn't arrive so she sat down with "Sapphire Blue" and never surfaced until she had finished it. She was really enthralled, and said to me what a good read it was.
Valerie A. Palm Desert, California
I loved the book. I thought the drone scene was so clever. Sapphire Blue was really enjoyable with great characters and funny, funny lines.
Diane C. Toronto, Ontario
Sapphire Blue is a fun read…a definite page turner. The characters are engaging while establishing an intriguing story line. Not always politically correct, Gord's sense of humour and personal observation of his characters is amusing. Looking forward to Alligator Alley.
Wendy S. London, Ontario
I started reading the book on the plane. I laughed out loud. People were looking to see what I was reading. I loved the book.
Carl M. St. John's, Nfld