Gord Hume's Latest Adventure
Gord Hume's Latest Adventure
Gord Hume's Latest Adventure
Gord Hume exploring the world's culture and cuisine
Gord Hume - Florida Fun in the Sun
Novel "Alligator Alley"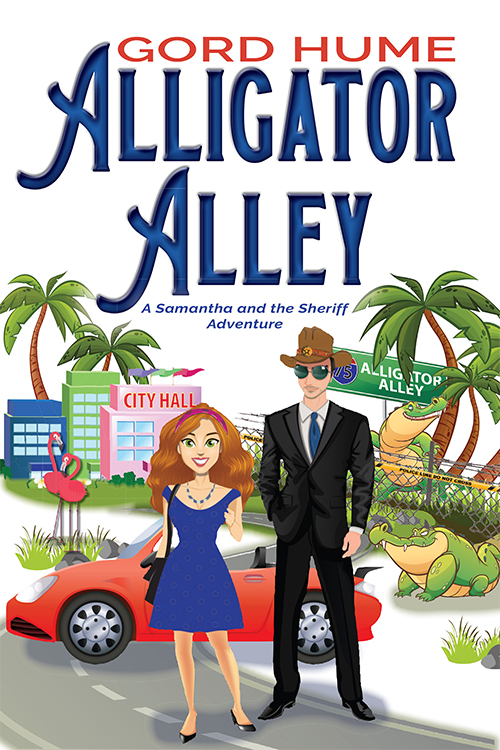 "ALLIGATOR ALLEY" is the second novel in Gord Hume's popular "Samantha and the Sheriff" series.
It continues the adventures of Samantha Summers as she settles into her new life in Florida. This time she encounters a vicious Central American gang disposing of bodies in the gator-infested Everglades, pursues her steamy romance with Sheriff Perkins, and runs into more political intrigue and animosity during a fiercely-contest election campaign.
"ALLIGATOR ALLEY" is a fast-paced and riveting ride for readers. To order your copy right now:
To order your copy now:  www.burnstownpublishing.com
Humour and tense action make "ALLIGATOR ALLEY" a rich cocktail for readers in another fun and funny novel. Danger and corruption menace Samantha as the Sheriff is engaged in a heroic struggle against a growing opioids epidemic in his community. Their hot romance suddenly shatters under the pressures of their lives and the dangers they confront as they put themselves and their relationship on the line.
From a steamy weekend tryst in South Beach to discovering body parts in Alligator Alley, this is another terrific and enjoyable read for fans of Samantha and the Sheriff.
Reviews for Alligator Alley

Gord Hume adds non-fiction, fiction writing to his 'resume'  – Pat Moauro, Aging Well Magazine – September 2019 issue
Alligator Alley Reader Comments:
"The dialogue is usually smart, snappy and funny. Hume's extensive experience in the media. business and municipal government all serve him well as he conjures up his fast-paced, funny stories about condo life along the Florida coast."
Pat Moauro, Editor, Aging Well Magazine.
"A wonderfully fast-paced follow up to Samantha and the Sheriff's "Sapphire Blue". The opioid crisis, electioneering, murder, mayhem and brisket under a glaring Florida sun. You'll be hooked."
Dennis S., London, Ontario
"I couldn't stop laughing. A really fun story that is right out of today's headlines. Loved it."
Catherine B., London, Ontario
"Well, there's no doubt about it – Gord Hume has a terrific sense of humour! So much fun reading "Alligator Alley". Really did enjoy the novel. This book had some great drama besides all the chuckles! We are looking forward to the next installment of the Sheriff, Samantha, and all the "ladies around the pool" in sunny Florida. A fun read, truly enjoyed it, wish the sequel were ready!"
Suellen G., Nova Scotia
"Intrigue, Romance, Humour ~ 'Alligator Alley's' characters are strong; the circumstances keep you wanting more. 'Alligator Alley' is a page turner. Looking forward to the 3rd book in the series, 'Martini's & Manicures'."
Wendy S., London, Ontario
**ORDER YOUR COPY OF "ALLIGATOR ALLEY" today at: