Toronto Young Street
Gord Hume Speaking Downtown Toronto
Gord at a book signing at the 2014 AMO conference.
Gord at a book signing at the 2014 AMO conference.
Great Wall of China
Visiting China: Great Wall of China
BOOKS–"THE LEADERSHIP CRISIS"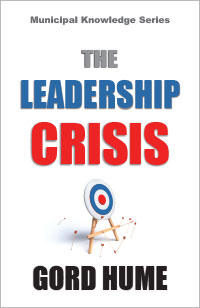 Politicians are a unique breed.
Politics is a very special game. The rules are different. The boundaries are different. The environment in which things go on is quite different.
Ego, ambition, fear, doubt, passion. Politicians may have a fervent belief in the rightness of their position or a visceral dislike for another person, party or platform, but these should always be tempered by the need to inspire collective action to move any agenda forward. That does not always happen. Stephen Harper failed to deliver a clear vision in the 2015 federal election; Justin Trudeau offered hope and 'sunny ways'.
As the world becomes more urban—75% of the world will live in cities by the 2050s—and cities assume a greater and greater importance in the global marketplace, the necessity for smart, effective municipal leadership expands.
Successful, prosperous communities that excel and offer a superior quality of life will almost inevitably have top-notch local leadership—politically and administratively.
"THE LEADERSHIP CRISIS" looks at local government leaders with a clear eye. The good characteristics of strong, dynamic leaders are many–as are their flaws and weaknesses. Canadian municipalities (and all orders of government) have seen a great range of leaders. This book explores the characteristics of political and civil service leaders, compares them to business and professional leaders, and studies 'what went wrong' in some municipalities.
This book looks at hard questions about our civic leaders, such as:
why big, broad and wide-angle thinking is required by municipal administrators, mayors and councillors;
why they get re-elected or defeated;
how some officials turn to corruption and public disgrace;
how strong leaders are embraced by a community;
how certain kinds of leaders rise during critical times in a community; and,
how designing, building and supporting great global cities is demanding preeminent leadership and leaders.
We see good, bad and mediocre leadership in politics. Some are brief shooting stars that collapse in burning rubble after one election. Others go on to provide wonderful leadership to a municipality, province or nation.
Do circumstances create great leaders, or simply enhance their opportunities to display their leadership abilities? How do communities attract the 'best and brightest' to their municipal staff?
How will cities and nations find the leaders necessary to discover, innovate and guide bold new solutions to the huge issues that are emerging in the world?
The questions about leadership and the crises that leaders and their constituents face every day change people. Some grow; some are diminished. Some try to hide in the shadows; some step forward into the bright glare of public scrutiny at a moment in history.
These are some of the themes we explore in "The Leadership Crisis".
Included in the book are the exclusive results of the national polling of municipal staff, elected officials and associated professionals on attitudes, practices and leadership characteristics. The results are often startling and provide a baseline for municipalities to look at their own internal operations and attitudes. It is an invaluable tool for civic leaders.
Anyone involved in local government must read this book. Anyone involved with other orders of government should read this book. And anyone interested in building a stronger, more sustainable, prosperous and creative municipality will want to read this book.
To read an excerpt of "The Leadership Crisis", click here.
Available in print or electronic formats. To order your copy now of this remarkable and important book, simply go to: www.municipalworld.com.

What readers are saying …
"Just finished your latest book and again, wow! Thank you so much for your dedication to helping people like me make sense of this business we are in. I think I've read all of your books, but this one has come at the absolute perfect time as I just declared my candidacy for mayor. Thank you!"
"Congratulations on once again authoring a very important piece of literature that gives focus to what is needed to drive cities forward today. The perspective you offer and the leaders you chose bring great heft to the teachings contained in the book."
"Every politician in Canada should have to read this book…"
"Just finished reading your book. I really liked both the content and the style."
"I think this is your best book, Gord…"
"You have been driving a message of change and improvement in all of your speeches and books, Gord. Municipal leaders need to be listening because we can't keep doing local government the same old way. Thank you for your leadership!"
"I'm ordering 5 more copies to give to some of my colleagues who need to understand your comments on leadership."
"How do we get you to speak in our city? Our Council and our community need to hear this message and how we can improve our local leadership!"