Toronto Young Street
Gord Hume Speaking Downtown Toronto
Great Wall of China
Visiting China: Great Wall of China
Welcome Plenary at Jasper Park Lodge
Welcome Plenary at Jasper Park Lodge
Cultural Planning for Creative Communities
Cultural Planning for Creative Communities
Sydney, Australia - cafe people
BOOKS–"Taking Back Our Cities"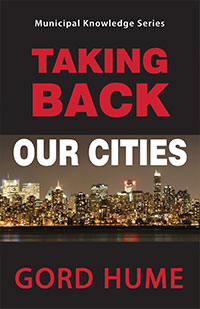 Gord Hume – April 2011
"This book is smart, thought-provoking, inspiring and easy to read," says one reviewer.
"This book provides a valuable contribution to the future existence and vitality of cities – Maybe this will become a mandatory read of Municipal Councils across regions? Should be. Maybe some of them will recognize themselves (good and bad) in the text!" says another reviewer.
What former Canadian Prime Minister is challenging Canada's municipal politicians on whether they just want more money from the other orders of government, or whether they have the courage to be accountable for new tax powers?
What former Premier explained why he didn't give cities local Sales tax authority by saying, "I couldn't get it through my caucus. Basically they wanted to keep municipalities down on the farm."?
What Canadian mayor said, "The relationship between cities and Queen's Park is paternal, patronizing and phony."?
And which Mayor said, when asked if the other orders of government look down on their municipal 'partners', responded, "Oh yeah. Absolutely. No question. Nobody can prove to me differently."?
What former Municipal Affairs Deputy Minister warns, "Municipalities are frequently seen as "ungrateful"?
What provincial cabinet minister stated, "We are bereft of champions on the federal scene."?
Which Canadian Mayor says candidly, "We're losing very good people at all levels of government because we're not taking the fundamental decisions that will permit us to solve the problems we've been talking about for decades?"
And which Mayor said bluntly, "We've got some good people in elected office who are there for all the right reasons, and we've got some people across this country that ought not to hold office."?
What CAO said, "Developers are encouraged by municipalities through their zoning by-laws to create sprawl, build cheaply and create horribly ugly structures that erode the spirit of municipalities."?
Which Mayor forcefully demands, "Here's the question that we need to be asking ourselves: is the next generation going to be the leaders of the world or the labourers of the world."?
What all of these provocative quotes have in common is that they are in Gord Hume's explosive new book, "Taking Back Our Cities".
Through interviews with mayors and political and government leaders from coast to coast, Gord's third book on municipal government in Canada shines a bright spotlight on the complex, often convoluted and sometimes thorny relationship between our various orders of government.
The book is filled with candid, thoughtful quotes from present and past leaders. It also offers insightful comments and ideas from people who have been in the Council and political trenches for many years.
It is the first book to analyze and assess municipal government from this perspective.
As one reviewer said, "This book should be mandatory reading for every elected official in Canada".
Municipalities in Canada are at a crucial moment in history. The property tax system is broken, relations between towns and cities and their provincial masters are often strained and cracking, and robust cities around the world are surging economically and culturally. Canada's cities are at risk of being left behind unless the structure and financing of our communities changes.
How can this country's cities successfully compete internationally in this 21st century with a municipal tax system devised in the 17th century and a governance model from the 19th century?
Canadian cities need to change the conversation. "Taking Back Our Cities" by Gord Hume is the starting point for this long-overdue and badly needed conversation.
Gord's book will make you question traditionally accepted standards and practices, wonder about how we got into this mess, sometimes make your eyebrows lift in shock, and sometimes make your lips smile…but most of all, it will make you think.
Hurry and order your copy now:
www.municipalworld.com or 1-888-368-6125
To contact Gord: [email protected] or visit www.gordhume.com