Gord Hume with Mongol Warriors
Gord Hume with Mongol Warriors
Part 4 – China/Olympics – Airports and Transportation
I glance out the window of the plane on arrival in Beijing and stare at 20 or more baggage handlers lined up to off-load luggage. After a short trip on a monorail, our luggage is waiting for us at the baggage area in the airport after we have quickly cleared Immigration. Baggage carts are free. One then strolls through Customs (Declare or Nothing to Declare) and directly to ground transportation. Welcome to China.
Compare that to the all too-typical arrival at Pearson in Toronto…you land late after paying exorbitant airport fees, fight your way through Immigration, subject yourself to the suspicious stares at Customs, desperately try to beg or borrow a toonie for a damn luggage cart (can you imagine what foreign business people arriving must think about that?), wait and wait and wait for the baggage carousel to deliver crushed suitcases to angrily milling crowds, and then push your way out to hunt for an overpriced taxi.
There is a better way. And the new Asian airports have found them. For example, I drop off my luggage at the downtown train station in Hong Kong, check in and get my boarding card, walk downtown for a final fitting from my tailor, pay $10 for a fast and comfortable 25 minute train ride to the efficient Hong Kong airport, and a few hours later pick up the bags at the airport in Bangkok.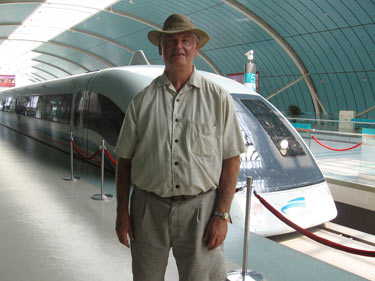 It is difficult to help North Americans understand how good airports and airlines are in Asia. The Beijing Capital International Airport is magnificent—spotlessly clean, efficient, staffed by smiling, competent people. It offers amenities we only dream about here, such as large vases filled with beautiful fresh flowers. Interesting public art. Free Wi-Fi. You can get free hot, warm or cold purified water by pushing a button.
I flew three different Asian airlines, and all of them offered terrific service from young, bright and attractively outfitted flight attendants. They all offered enjoyable hot meals as part of the trips even though the flights weren't much more than two hours—and yes, I was in economy class. It was a revelation. The Thai airline flight attendants spoke four languages—Thai, Chinese, Japanese and English. Their menu was eclectic—and tasty.
Boarding started about 30-40 minutes before departure, passengers proceeded calmly onto the planes, the doors closed two minutes before departure, and we left on time. Flights seem to be mostly full most of the time. I felt absolutely safe on every flight.
In something else that NA airports could learn, your credentials—passport, visas—are carefully and thoroughly scrutinized when you first arrive at Immigration or Security. After that, it is just showing a boarding card. Security is thorough and modern—for example, you don't have to go through that disgusting practice of taking off your shoes at the whim of some security person—in Asian airports, you simply step on an electronic block which scans your shoes.
In Shanghai, I took the Mag-Lev (Magnetic Levitation) train from mid-town Shanghai to the airport. It took seven minutes, and the train hit 431 kms/hour! It was an utterly transforming transportation experience, with no sensation of speed or discomfort. I think in awe about traveling London-Toronto in 25 minutes and what that would do for our local economy. Yes it would cost billions but think of the economic impact and benefits on our City of London and SW Ontario. Let's think big for a change!
Highways on which our little group traveled were fairly new, not terribly busy, and almost always a Public-Private Partnership. The PPPs build the highway and then charge a toll, getting a license for a number of years in exchange.
Electronic infrastructure seemed to be modern and up to date. In Beijing the new Chinese Television Centre is an iconic building shaped like a large "A". It is huge, and has drawn world-wide recognition. Seeing it up close is amazing. The national television service provides several different channels, offering a variety of programming.
Internet service is readily available, although without question some sites are blocked by the government. This is a significant issue. Telephone service was just fine, and electricity readily available. The supply of power is, however, an on-going concern for China—especially the coal-fired generating plants.
Overall, however, the urban infrastructure I witnessed was just fine, in fact better than many North American or European cities. It shows how far China has come in the past thirty years. In rural villages, however, infrastructure is much more of an issue. In fact, how China deals with improving the lives of the urban poor and their rural residents is going to be a major challenge in the years ahead.
Banking and business services are comparable to anything we have here. The Ivey School of Business campus in Hong Kong, which I visited, is wonderfully located in the HK convention centre and provides a wonderful educational opportunity to Asian students wanting to study North American business.
What we are dealing with today in Asia are modern, wealthy and hard-working cities and countries that are emerging as world leaders. Attitudes here are going to have to change. There is no room anymore for smugness or not understanding that Canadian cities are going to have to play on a world stage in the future if they want to provide a flourishing, prosperous community for their residents. The monetary shift from west to east is on.