Gord Hume with Mongol Warriors
Gord Hume with Mongol Warriors
Part 3 – China/Olympics – Hong Kong/Bangkok
Hong Kong is about three things—money, shopping and food. You sort out the order according to your preferences.
I had not realized how mountainous the island is, or the amount of forest cover. The city itself is vertical, and the 7 million in the area live mainly in very tall, very typhoon-proof buildings. A nice two-bedroom with a harbour view will set you back about $100,000 a year in rent.
The British influence is still obvious, and one must take the famous Star ferry across Victoria Harbour to Kowloon where the venerable Peninsula Hotel offers a green Rolls Royce as its house car, and serves an elegant tea in the late afternoon.
Smelly, small and jammed-together booths offering all kinds of merchandise share sidewalk and street space with thousands of people shopping, and are juxtaposed with magnificent office and residential towers that offer gleaming lobbies and glass and marble interiors. It is a strange and intoxicating experience to push through the crowds.
HK's historical position as the "Gateway to China" seems to be in some jeopardy now, as you generally don't need to go through HK to get into China. It does have two important advantages, however—a strong, established banking system and a court system rooted firmly in British law. Chinese business law is, shall we say, still emerging.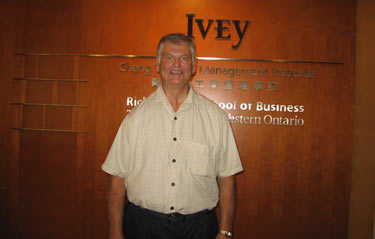 The city has a distinctly Manhattan feel to it—island, financial centre, never stops. Buildings do a wonderful job of using lights and lighting to accent their structures at night, and it provides a glorious skyline. Streets and office towers are busy all night.
This is the second-busiest harbour in the world, and there are hundreds of thousands of containers being shipped to ports in most countries around the globe. The airport is relatively new and was built on land reclaimed from the harbour. This has eliminated the previous bowel-loosening approach to the old airport when planes dodged washing hanging from apartment buildings and had to make a sharp right turn onto the runway. (More on airports, airlines and infrastructure in next week's report).
I go for a fitting for a suit from a well-known tailor. He is quick, professional and promises a fitting in three days. I calculate the cost of the wool/silk blend, quiver slightly, and then quickly order a second suit. At $126 per suit, it is a steal.
The city is on edge when we arrive, due to Typhoon Nuri's approach. In a fit of magnificent planning last January (HA! Try blind luck!) our little group departs for Bangkok the day before the Category 9 typhoon hits, returning the day after the devastation has left two dead, nearly 100 injured, and economic loss estimated at 2.5 billion yuan. The city is doing business normally when we arrive back.
The second very odd experience happened on the plane, and I don't know if it made the papers here or not. Some faded 70's British rock star named Gary Glitter had just been released from a Vietnam prison after serving three years for sexual abuse involving two young girls. He has flown from Bangkok to Hong Kong, but been rejected there. He has been called the 'world's most unwelcome man'. He is sitting a few rows in front of me on the plane. At least three British tabloid reporters have squirmed their way onto the flight, and start shooting pictures before the plane even takes off. Correctly anticipating the gauntlet of security and media awaiting us in Bangkok, we flee the plane before Mr. Glitter. His story plays out big over the next few days as Thailand also rejects him, and he eventually ends up in the United Kingdom.
Flying into Bangkok, the three stories on the front page of the Bangkok Post are: Student protestors are caned by a teacher; the Supreme Court won't rule on allegations of misconduct by Thai cabinet ministers; and draft legislation will require would-be beggars to report to local government for approval and work permits. Interesting.
Thailand's history is one of considerable internal turmoil and political turbulence, such as is being played out right now with violent demonstrations, the previous Prime Minister fleeing the country leaving millions of dollars behind, and a shaky national government. The King, however, is greatly loved and celebrates his 80th birthday this year. A report suggests he may be the wealthiest monarch in the world.
Bangkok turns out to be a wonderful experience. The hotel is right on the river which splits the city and is the main feature of the city of 10 million. The boats flow constantly. The water is a nice milk-chocolate colour. No swimming in the river, thank you.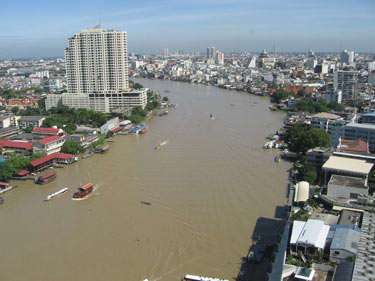 Tuk-tuks are motorcycles that couldn't make it, so people add a couple of seats at the back and they serve as taxis. A riot, and an experience not to be missed.
Thais seem to me to be gentler people and are charming, gracious and friendly. It is rightly called a 'country of smiles'. Thai silk is extraordinary, and women load up on yards and yards of silk to make clothes. Silk ties for men are about eight dollars.
Thai food is sensational. Pad Thai, seafood, great baked goods, crisp veggies…chilies heat up some dishes, but local beers cool your throat. This is a country worth exploring some more, possibly to include visits to their ocean resorts like Phuket.
In Asian business places the air conditioning is cranked up. The weather is very hot and humid and walking outside is like getting walloped by a hundred steaming towels. Hotel rooms have a good idea for energy savings, however—a master switch that is activated by your room key so without the key in the slot you can't turn on lights or the AC.
Flying back to HK over Laos and Vietnam, those of us of a certain age look out the plane's window and suddenly realize the view would have been similar to that of the American bomber pilots forty years ago. It is a sobering reminder of the history of SE Asia.