Great Wall of China
Visiting China: Great Wall of China
Gord Hume with Mongol Warriors
Gord Hume with Mongol Warriors
Part 2 – China/Olympics #2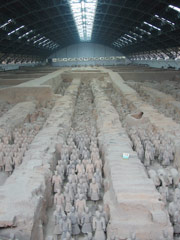 Peering through a microscope in the Xi'an (she-an) Museum, I study the small shard carefully. It is a fragment of a woman's skull—and it is more than one million years old.
You can make a reasonable argument that this is the start of civilization, a discovery of monumental proportions here in the middle of China. What is known now as Lantian Man lived on the northern side of the Qinling Mountains.
And it is here a few kilometers from Xi'an, a city of 8 million, that the greatest archeological discovery of the 20th century was made—the Terra Cotta warriors. And just a mile away exists the mausoleum of the first Chinese Emperor, Qin. When that hill is opened up, it may be the greatest archeological discovery of the 21st century.
The amazing discovery was made in 1974 by a farmer digging a well. Today, there are three large pits where the estimated 8,000 warriors, horses and chariots are being slowly and painstakingly reassembled. It is an awesome sight to behold. Every one of the figures was smashed—not one survived the revolution by the slaves after the Emperor's death. It took them 38 years to make the figures, and mere moments to destroy them. It will take many more years to continue the work of reassembling the warriors.
The reason the Chinese haven't opened the mausoleum yet is because of concerns about how to protect the items inside. The terra cotta warriors were once painted but now are a dusty clay colour.
This is also the region that opened the famous Silk Route in 150 BC. It has been the home of many Emperors and their dynasties. The history in the museum is staggering, and I am delighted to see hundreds of young people visiting the museum, intent on discovering and celebrating their remarkable history. I wonder how many London teens are in a museum on a Saturday afternoon.
Driving in Asia is a terrifying experience. Cars come from every direction, traffic signals seem to be a curiosity rather than mandatory and pedestrians have no rights. While clutching the straps on a taxi, watching in wide-eyed amazement at the traffic turning all directions at the same time, I ask my guide how many pedestrians are killed. He replies, "20 or 30." "Wow," I respond, "that's a lot for a year." "No," he corrects me, "that's every month." I can hear the gasp from London Traffic Sergeant Tom O'Brien halfway around the world.
Shanghai is a city of 22 million, most living in high-rises. It has a cosmopolitan atmosphere, almost European in some sectors, and a curious lack of Chinese feel. Located on the China Sea, Shanghai has a long tradition of banking, commerce and trade.
It is a bustling city, hot and humid. The famous Nanjing Road offers shopping of all sorts, with every brand name from around the world you can imagine. Stores are large, fashionable and expensive. If you can't afford to buy there, young men approach you on the street waving glossy magazines and offer to take you to mysterious places to get great deals on everything from golf clubs to jewellery to designer clothes. Don't go.
I am told that Shanghai women are very beautiful but make their husbands work very hard to look after them. I am also told that women from other cities in China don't like Shanghai women very much.
It is an expensive city, the most costly of any city I visited in China. Breakfast at a nice hotel was over $40. Rooms have French design flair, including glass bathrooms. Some people like them, I guess.
Religion has become much more accepted in China in recent years, and is practiced openly. A wise local tells me that about 90% of Chinese believe in Buddhism, although they don't necessarily practice it daily. More and more temples are being re-opened. Christianity, Muslim, Hindu and other religions are accepted and widely practiced.
Cell phones are everywhere. People talk very loudly into them. Streets are crowded and personal space is a concept that is not widely understood or practiced; it is somewhat uncomfortable for a westerner.
A magnificent banquet hosted by a charming Shanghai couple features good local beer, crab presented several different ways, course after course of local delicacies and, in celebration of the imminent festival, Moon Cakes. These dense, dark and delicious cakes are widely available today and are worth sampling.
Table talk during dinner turns to health care in China. It is not great for most Chinese. You need insurance, either purchased yourself or provided by your company. There are no family doctors as we know them, so people go to hospitals for care. It is not an efficient system. Dental care seems to be far down on the list and poor teeth are common. There is a thriving business in traditional herbal Chinese medicines.
The Bund is the famous riverside walk in Shanghai. On one side are stately old European buildings housing banking institutions; across the river are huge new towering and architecturally whimsical skyscrapers, the latest one of which just opened and is 101 storeys. Boats, ships and tugs plow the dingy grey water between the two promontories.
I stroll happily through a funky arts and cultural district, M50. It was created from old clothing factories built in the 1930's and was rescued from demolition by artists who now produce wonderful silk, art and pottery in these resurrected buildings. What an opportunity for downtown London or the Old East Village. Creative City principles are world-wide. Later I find myself on the second floor of a factory trying on cashmere sweaters, even though the temperature is in the high 40's. To my sweaty shock, I buy one.
Shanghai is interesting and quite different from other Chinese cities. I'm not sure I am very fond of it, however, as it seems to lack charm. I push on to Hong Kong.